If you love Native American jewelry, with its rich use of turquoise and silver, you may have run across the term "Fred Harvey jewelry." Who was Fred Harvey, and why is the association important, considering Harvey was neither a Native American, nor a silversmith? 
This question brings us back to the early years of the expansion of the American Southwest via the railroad system. Mr. Harvey, an immigrant from England, saw a need for quality food to be served along the rapidly developing rail lines, in particular, the Atchison Topeka and Santa Fe (AT&SF). He was given the opportunity to open a tea room in Florence, Kansa in 1875, with the railroad conveying fresh meat and dairy. As his success grew, he devised the first chain restaurant system in the US, creating one retaurant every 100 miles along the line.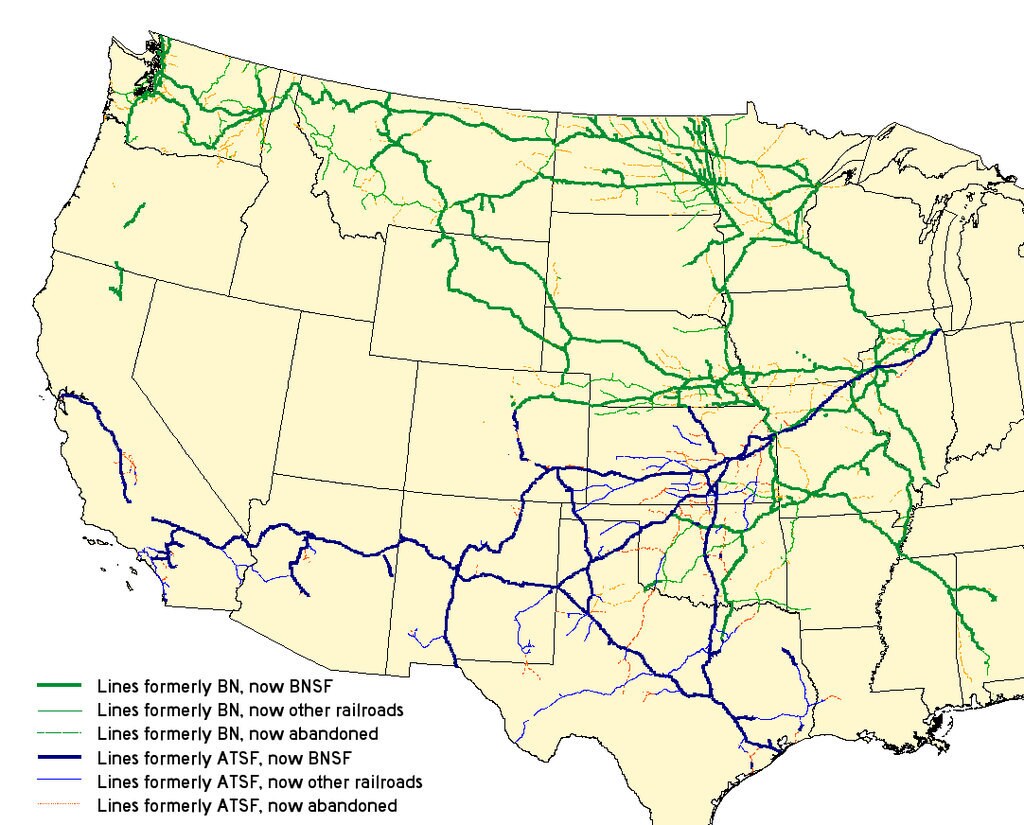 (Map courtesy Wikimedia Commons. The original uploader was Elkman at English Wikipedia [CC BY-SA 2.5-2.0-1.0)  Blue lines show the ATSF.
For the first time, train passengers were able to access well-prepared and generous meals during their often difficult traveling conditions. In 1888, railroads added dining cars, and though Harvey initially resisted the idea, he eventually agreed to offer food prepared and served in these specially appointed dining cars. Ill-mannered rough men waiters were replaced with more wholesome services, employing carefully selected women who became known as "Harvey Girls" (depicted in the 1946 Judy Garland movie of the same name). Harvey's vision is often credited with smoothing some of the roughness of the "Wild West."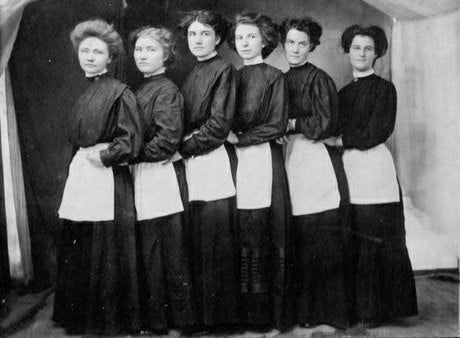 Kansas Historical Society. N.p., n.d. Web. 5 Aug. 2015. <http://www.kshs.org/>.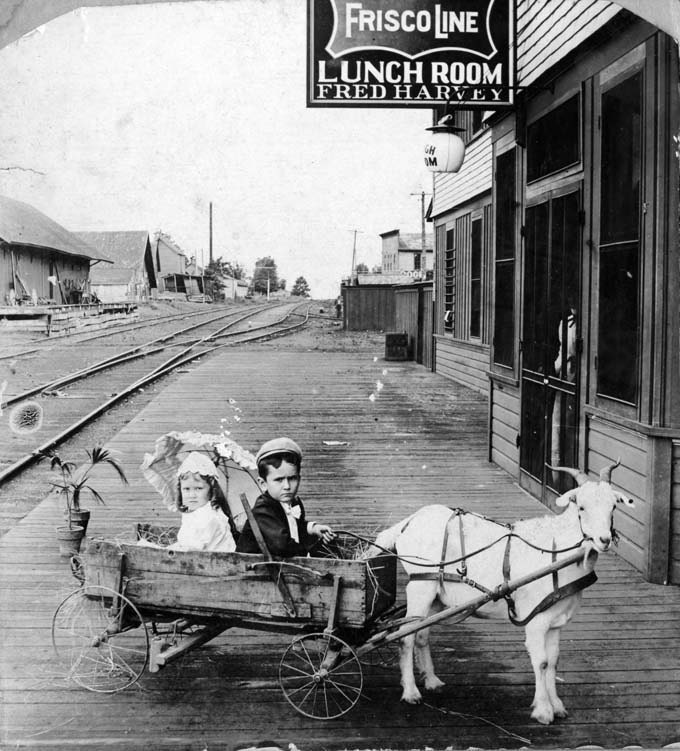 Harvey House Lunch Room at a railroad depot with charming "patrons." 
With the establishment of better services along the rail lines, tourism was being supported, and actively promoted. Mr. Harvey died in 1901, and his legacy continued with his children. Both Minni Harvey and Ford Harvey, noted the interest created when Herman Schweitzer brought Navajo and Hopi crafts to a Harvey House location in Coolidge, New Mexico.
Schweitzer was the head of the "Indian Department" that Harvey House created to promote a complete tourist experience, including "Indian Detours," or side trips highlighting Native American life and crafts. Schweitzer developed a large supply network, and is credited with the success of showcasing "Indian Curios" at the Alvarado Hotel (a Harvey masterpiece) in Albuquerque, NM in 1902.
Mr. Schweitzer hired Navajo and Hopi craftsmen through a trading post in Thoreau, NM. He developed the idea of pre-cut turquoise and standardized silver pieces in order to supply these craftsmen. It was also Schweitzer's influence in creating the styles that would appeal to the Victorian tastes requiring smaller scale jewelry. So while some of the jewelry was made by Native American craftsmen, designs and styles were controlled and created by Anglos. Very good marketing strategies were used, including Herman Schweitzer's explanation of the stamped symbols used in the designs.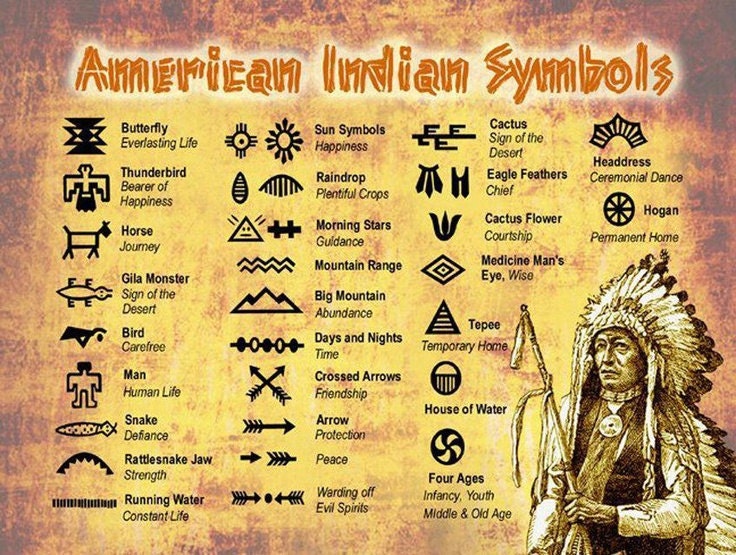 A version of stamped symbols you might find on tourist jewelry influenced by Schweitzer.
While the meanings for the symbols may be somewhat inaccurate, it gives us a window on the development of an appreciation for Native culture, as it references the powerful and sacred relationship between nature and humanity.  Mr Schweitzer's influence continued, and it is through the Harvey House collection and his own personal collection, that important Native American artifacts, including jewelry, have been preserved, and are now part of the Heard Museum, Phoenix, AZ.
As the automobile became a popular mode of transportation, rail travel became less convenient. Route 66 paved the way for tourists from post-WWII to the 1960's. The Fred Harvey era typically describes that time period from the early 1900's to the 1930's, though tourist jewelry remains popular to this day. Other important influencers of the Fred Harvey era include Maisel's Indian Trading Post (opened in 1939, Albuquerque, NM), Silver Arrow (1930's, Kansas City, Missouri) and Bell Trading Post (1930's, Albuquerque, NM).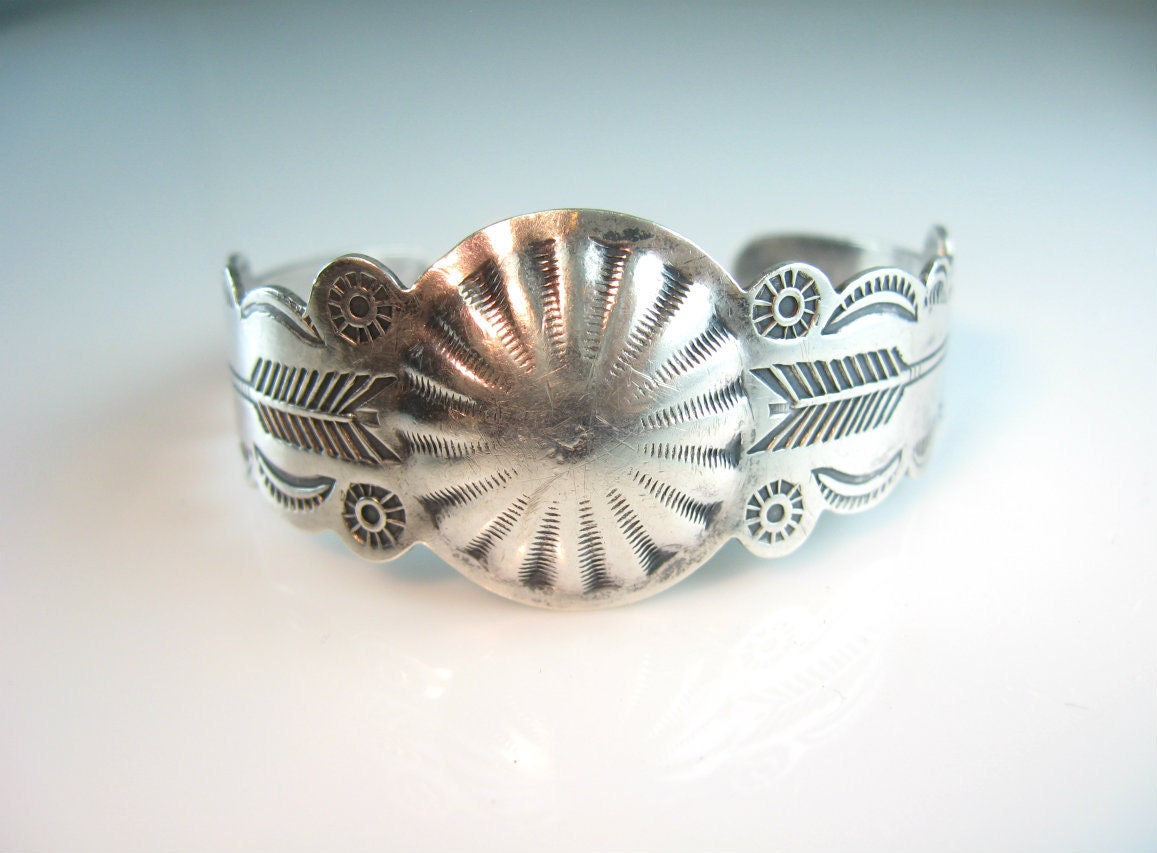 Made by Silver Arrow, a sterling silver cuff bracelet c. 1930's to 1950's
A few characteristics of Fred Harvey era jewelry include a combination of hand work and assembly work, using precut silver and shaped turquoise.  Jewelry was fairly uniform and light in weight.  Pieces were often unmarked, or simply marked "STERLING," unless made for specific Trading Posts.  Styles of Trading Post marks will give you a clue as to their approximate era.
It has been said that this style of Native American inspired jewelry should be more correctly called railroad jewelry. And while that may be a more accurate description, the overall vision and influence of Fred Harvey, himself, can't be denied.
With thanks to these websites:
Wikipedia
Wikimedia Commons
canyonroadarts
LegendsofAmerica
Nativeamericanjewelrytips
#NativeAmerican #FredHarvey #vintagejewelry #Americanhistory 
All rights reserved ©2017 BohemianTrading